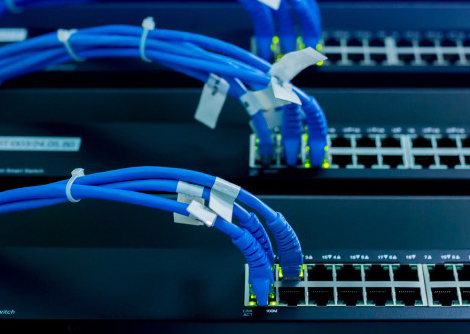 Internet distribution

and networking in building - also with PoE
Good internet coverage in residential locations (hotels, dormitories, etc.) is nowadays a standard that all guests expect. However, perfect WLAN coverage is only guaranteed if there is a sufficient number of access points and they are connected via network cable.
Our technology eliminates the need to lay new cables. It uses existing telephone and coaxial cabling in the building and brings up to 1.5Gbit/s to each WLAN access point; if desired, LAN connections can be offered to hotel guests.
The entire installation can be carried out quickly without construction work and can be administered centrally via the G.hn switch. If required, the bandwidth can be limited for each participant. A shared local network is also possible. If coaxial cables are used for SAT reception, this is retained, parallel operation with CATV from 258MHz is also feasible.
Power can also be transmitted via the data line.

This enables a central power supply for PoE-capable access points and webcams.
Installation examples: Gigabit Internet in apartment haus / top Wi-Fi in building incl. PoE
Switches and EndPoints for Internet distribution and networking via telephone cable
G4200-4/8T – for 4/8 EndPoints
4/8 * G.hn Wave2 SISO/MIMO Port (RJ45)
G.now Vectoring (VectorBoost)
2 * 1000-X/2500-X/10000-X Port (SFP/SFP+)
3 * 10/100/1000BaseT Port (RJ45)
1 * RS232 Konsole-Port (RJ45)
2 * SYNC BNC Port, Time synchronisation with other G.hn switches

G4224T – for 24 EndPoints

24 * G.hn Wave2 SISO/MIMO Port (RJ45)
G.now Vectoring (VectorBoost)
2 * 1000-X/2500-X/10000-X Port (SFP/SFP+)
1 * 10/100/1000BaseT Port (RJ45)
1 * RS232 Konsole-Port (RJ45)
1 * RJ21 Port (24 * Analog-Telefon)
2 * SYNC BNC Port, Time synchronisation with other G.hn switches
G4224 for 12/24 PoE+ EndPoints
2 * Cards – each 12 G.hn Wave2 SISO/MIMO Port (RJ45)
G.now Vectoring (VectorBoost)
each card has 10 * 802.3at (30W) and 2 * 802.3bt (90W), up to max. 600 Meter
2 * Power supply with 300W each , 520W PoE-Budget
2 * 1000-X/2500-X/10000-X Port (SFP/SFP+)
2 * 10/100/1000BaseT Port (RJ45)
1 * RS232 console-Port (RJ45)
2 * SYNC BNC Port, Time synchronisation with other G.hn switches

G4201TM EndPoint
1 * G.hn Wave2 SISO/MIMO Port (RJ11)
G.now Vectoring (VectorBoost)
1 * 10/100/1000BaseT Port (RJ45)

G4202T EndPoint
1 * G.hn Wave2 SISO/MIMO Port (RJ45)
G.now Vectoring (VectorBoost)
1 * analogue phone (RJ45)
2 * 10/100/1000BaseT Port (RJ45)

G4202TCP PoE+ EndPoint
1 * G.hn Wave2 SISO/MIMO Port (RJ45)
G.now Vectoring (VectorBoost)
2 * 10/100/1000BaseT Port with PoE+ (RJ45)
Power supply via
G.hn Port or USB-C
IP30 Casing, temperature range -10 – 45°C
Switches and EndPoints for Internet distribution and networking via coaxial cable
G4200-4/8C – for 4/8 Wires

4/8 * G.hn Wave2 Port (F-Connector) each port supports up to 16 EndPoints on one line (recommended up to 8)
2 * 1000-X/2500-X/10000-X Port (SFP/SFP+)
3 * 10/100/1000BaseT Port (RJ45)
1 * RS232 console-Port (RJ45)

G4224 for 12/24 PoE+ EndPoints
2 * Karte je 12 G.hn Wave2 Port (F-Connector)
each card has 10 * 802.3at (30W) and 2 * 802.3bt (90W), up to max. 600 meter
2 * power supply with 300W each, 520W PoE-budget
2 * 1000-X/2500-X/10000-X Port (SFP/SFP+)
2 * 10/100/1000BaseT Port (RJ45)
1 * RS232 console-Port (RJ45)

G4202TCP PoE+ EndPoint
1 * G.hn Wave2 Port (F-Connector)
2 * 10/100/1000BaseT Port mit PoE+ (RJ45)
powered either over G.hn port or USB-C
IP30 casing, temperature range-10 – 45°C