Gigabit Ethernet over Coax (EoC)
G42xx-C series is based on the most advanced technology for in-house networking - G.hn Wave2.
It can use any type of coax cable. The data transmission always takes place in the frequency range 2-200 MHz. Therefore it is possible to transmit data as well as receive SAT-TV (950-2250 MHz), DVB-T2 (470-690 MHz) and cable-TV (DVB-C) in the frequency range above 258 MHz on the same coaxial cable.
The installation is plug-n-play - i.e. without any configuration effort.


To set up a local area network throughout the home, up to 16 G4201C and G4204C InHome modems can be connected together via the coaxial cables.

All types of cabling are possible - both "star" or "in series" from one antenna socket to the other, and of course the combinations of these.
The connection of individual coaxial cables can be done via SAT multiswitches, SAT feeders or coaxial splitters.

The G4201C and G4204C InHome modems are compatible with each other and can be combined in the network as required.
In the master/client configuration networks of any size are possible. If desired, the clients can be isolated from each other (endpoints).

For a network with up to 16 clients, G4201C or G4204C modems can be used as masters.


With the help of G.hn switches networks in buildings of any size can also be set up in a short time via several cable harnesses (4/6/8, depending on the switch) or fibre optic connections forwarding in multi-dwelling units can be implemented.

The switches are VLAN capable. One switch port can be connected to up to 16 clients on each cable strand. Several switches can be connected together.


G.hn Modems for Coax

G4201C (InHome or master/client)
1 * G.hn port (F-Connector) SISO

1 * 10/100/1000BaseT RJ45 Port

data sheet quick guide InHome quick guide master/client
Direct ordering price: 119€ incl. taxes excl. shipping outside Germany (InHome)

G4204C (InHome or master/client)
1 * G.hn port (F-Connector)

4 * 10/100/1000BaseT RJ45 Port

data sheet quick guide InHomequick guide master/client
Direct ordering price: 139€ incl. taxes excl. shipping outside Germany (InHome)


G4204C-W - G.hn modem with 4x1Gbit switch and Wi-Fi
1 * G.hn Wave2 Port (F-Connector)
4 * 10/100/1000BaseT Ethernet Ports (RJ45)
1 * Power on/off switch
1 * USB2.0/3.0 port
2.4 GHz und 5 GHz 802.11 b/g/n/ac Wi-Fi
Direct ordering price: 220€ incl. taxes excl. shipping outside Germany
data sheet

G.hn Headends for Coax
G4200C - for 6 coax lines (up to 96 clients)
6 * G.hn EoC ports, each port supports up to 16 clients

1 * 1000-X /10000-X SFP/SFP+ ports
2 * 10/100/1000BT RJ45 port
1 * RS232 console port (RJ45)
data sheet quick start guide manual
Available on request

G4200-4/8C – for 4/8 coax lines (up to 64/128 clients)
4/8 * G.hn EoC Ports, each port supports up to 16 clients

2 * 1000-X/2500-X/10000-X SFP/SFP+ ports
3 * 10/100/1000BT RJ45 ports
1 * RS232 console-port (RJ45)
data sheet quick start guide manual


Available on request or direct by Amazon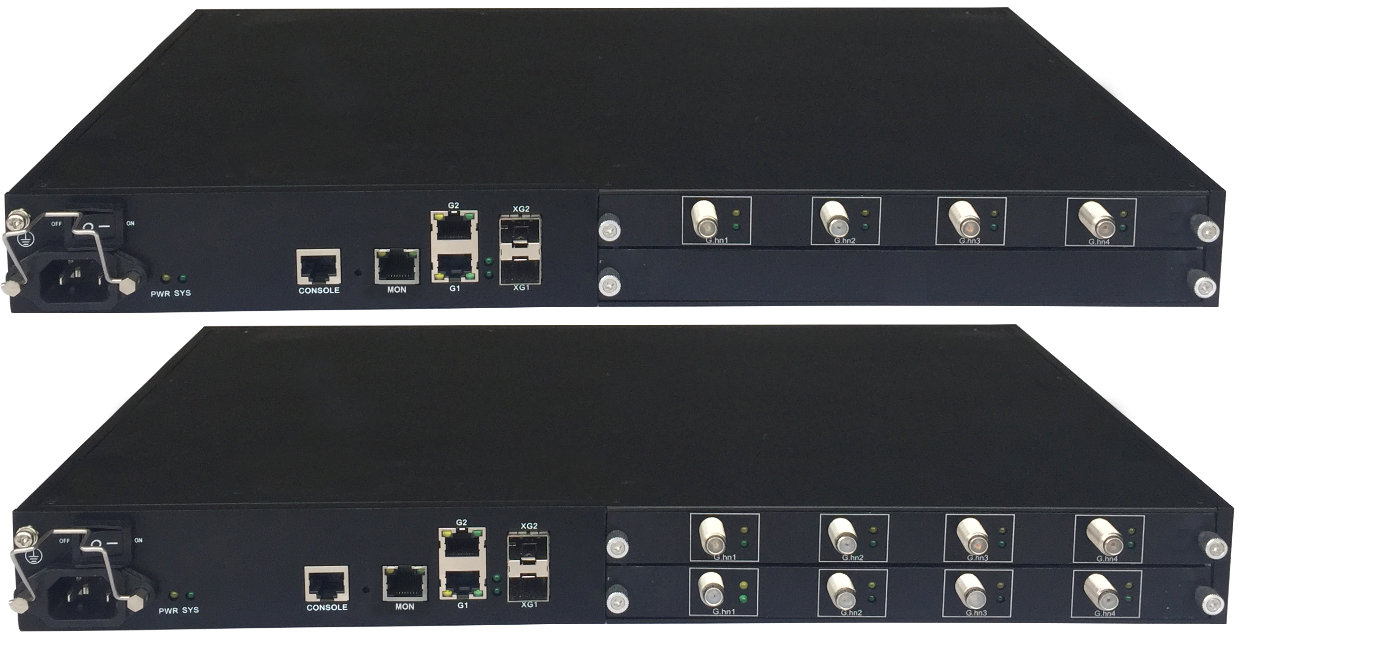 ---